One of my favorite salads, which is a dish by itself. Aside of being healthy, it's a special treat next to a cup of tea. The combination of beets, an apple, dried fruits and nuts make it a real dessert!
I am a fan of this sweet root. Luckily it's a dominant ingredient in Russian cuisine and usually it paired with mayonnaise. The beet can be used in different variations. It combines well both in a salty and sweet dish. The beets in this salad should be boiled. You can use beets in any other form (raw or roasted), but it will will be a bit different.
Note that if you boil the beets, it takes about 50 minutes. The preparation time is 15 minutes. I just used vacuumed ready to eat beets to make things faster.
I used granny smith apples because they have the best texture for this salad and my second choice will be pink lady apples..
Don't like garlic? you don't have to add it but in my opinion it adds a spiciness to the salad.
What can you replace Mayonnaise with? Add one tbsp of sunflower oil and one tbsp of lemon juice.
What can you use instead cranberries and walnuts? Any dried fruits and nuts you have. For example, raisins can replace cranberries and instead of walnuts you can add pine nuts or pumpkin seeds.
Beet Salad with Apples, Dried Fruits and Walnuts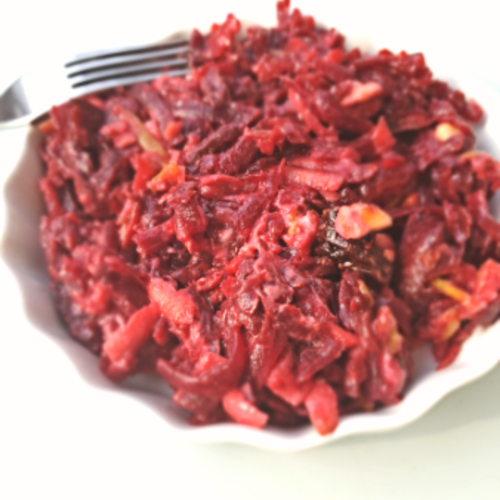 Ingredients
• 4 Beets, boiled and peeled
• 1 Granny smith or pink lady apple
• 6 Dried Plums
• 1/2 Cup Dried cranberries
• 1/2 Cup Walnuts, chopped
• 1 Garlic Clove, crushed
• 2 tbsp Mayonnaise light
• 1/2 tsp Salt
Instructions
Boil the beets on medium heat for 60 mins or until it can be easily pierced through with a knife. Peel the skin off the
beets after they have cooled off. Skip this step if you use vacuumed, ready to eat beets.
Shred the beets and the apple using a box grater or food processor. I use a simple box grater.
Chop the plums and add the cranberries and the walnuts.
Add the mayonnaise and toss the salad well.