Gluten-free Buttery crumb bars filled with wild berries. This simple recipe uses the same mixture for the crust and topping.
I just love all forms of buttery  crust, like tarts, cookies, pies etc. But most favorite for me is a combination of fruits, any kind of fruit.
I've tried to make these bars twice. The first time the gluten-free dough was lacking taste and texture, so I've changed the dosage of the ingredients.
This recipe is so easy because I've made some shortcuts:
Crust– I put the dough straight in the pan and flattened with the hands. I like a thin layer of the crust so you can flatten it with a bottom of a glass for example.
Filling– Just take out the frozen berries out of the freezer and spread it on the crust, sprinkling sugar on top. Also I used a combination of strawberries, blackberries, blueberries, and raspberries. I chopped only the raspberries.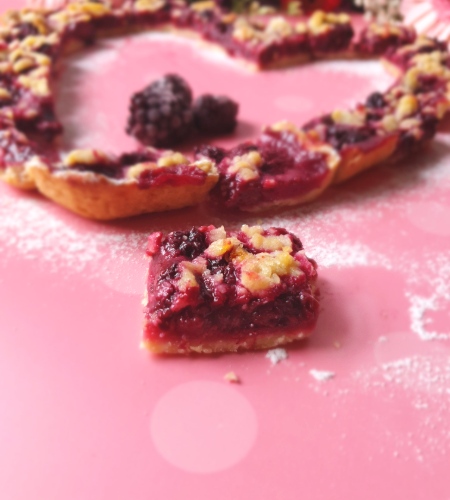 Wild Berry Gluten-Free Bars
Ingredients
Crust and crumbs topping:
3/4 cup soft butter
3/4 cup rice flour
1/2 cup corn flour
1/2 cup potato stretch
1 egg
1/2 cup granulated sugar
1/4 tsp salt
1 tbsp baking powder
Filling:
2 cups frozen wild berries
3/4 cup white sugar
Instructions
Preheat oven to 350 F.
In a mixer with a guitar hook, process the butter, egg, sugar, vanilla extract and salt until combined. Than add the flours. The dough shouldn't be sticky.
Reserve ¼ of the amount to crumble on top and place in the fridge.
Transfer the remaining 3/4 to an oiled baking pan and press it into the bottom and up the sides with your fingers. Try as much as possible to make it even on all sides.
Spread the frozen berries on top of the dough and sprinkle the sugar evenly on top of it.
For the crumble topping, Crumble remaining 1/4 of crust mix on top of the berries with a grater.
Bake for 30 minutes and cool down.